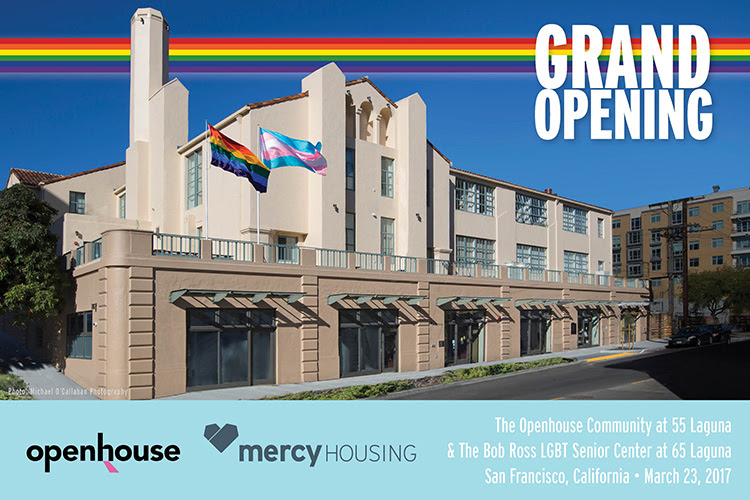 Event Details:
Thursday, March 23, 2017
3:00 – 5:00 p.m.
Speakers Program • Reception • Tours
55 Laguna, San Francisco, CA 94102
About the Project
Celebrating the lives, history, and relationships of all people, the Openhouse Community at 55 Laguna is San Francisco's first LGBT-welcoming affordable housing for seniors. The 40 new apartments, developed in partnership with Openhouse and Mercy Housing California, are a critical component of a shared mission to meet the growing needs of San Francisco's 25,000 LGBT seniors — many of whom struggle to find access to quality services and housing for fear of discrimination and compromised care. A proud new landmark in the history of San Francisco, the community includes a permanent home for Openhouse and spaces for supportive programming at The Bob Ross LGBT Senior Center at 65 Laguna.
Architecture & Design
Design of the Openhouse Community at 55 Laguna, formerly known as Richardson Hall, involved the adaptive reuse and preservation of the Spanish Colonial Revival style original school building as part of a larger redevelopment of the former University of California Extension site. Fresco murals by Jack Moxum and Hebe Daum, wide corridors with large windows that once lined classrooms, and a repurposed second floor terrace pay respect to the history of the building while offering a beautiful community for its residents to call home.
Partners
Financial partners for 55 Laguna are The San Francisco Mayor's Office of Housing and Community Development which provided Housing Opportunities for Persons with AIDS/HIV funds as well as local funds, Bank of America Merrill Lynch, Bay Area Transit-Oriented Affordable Housing Fund, California Tax Credit Allocation Committee, Federal Home Loan Bank of Atlanta, U.S. Department of Housing and Urban Development, and the SF Department of Homelessness and Supportive Housing through the McKinney Shelter Plus Care program. The Bob Ross LGBT Center at 65 Laguna has been made possible through the generosity of many community members and other individuals, businesses, and foundations, led by a $1 million gift by the Bob A. Ross Foundation.
For more info contact: celebrate@mercyhousing.org